Happy Friday!
I received the China Glaze Vintage Vixen polishes a couple days ago, and have picked my five favorites to show you today. This is a quite diverse collection, and certainly has a range of colors for everyone. One of the reasons I love China Glaze…their collections are always filled with different shades, so you'd be hard pressed not to find a few that work for you!
First Class Ticket is a rich, shimmery purple that has tiny blue microglitter in it. Quite appropriately named, since it has a very luxurious feel to it. Two coats covered well:
Swing Baby gave me a difficult time because the formula was very thin, but the color won me over! It reminds me of bubbly champagne, very foily and shimmery and just gorgeous. This was a three coater:
Jitterbug also has a foil-like finish to it, and was another favorite in this collection. It is a slate grey with the slightest blue tinge to it…very unique. I don't think I own anything else that looks like this! This one was good to go with two coats:
Of course, Emerald Fitzgerald is in my top favorites as well. China Glaze is quite generous with the greens, and they know how to do them right! I love that this is a dark, vampy green, but never looks black, even under low light. It isn't green-green, but has a bit of a blue cast to it. I see myself wearing this one a lot. This was two coats: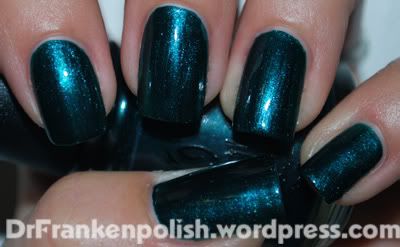 Now, even though I adore EF (and greens in general)…one color really stood out. My favorite of this collection is Ingrid, a strange choice for me, but I am oddly fascinated with this color! Ingrid reminds me of mud. Yes, mud. But pretty mud with a beautiful gold shimmer. My fiance, who rarely ever comments on my polish, noticed this right after I finished my mani and said he really liked the color. This one was also a bit on the thin side, but was even and opaque in three coats:
Thanks for stopping by! Hopefully I will have a fun 4th of July mani to show you on Sunday…I'm still trying to figure out what I should do!