What better way to start out the day than with a little green?


We all know that I love my green polishes, but today's franken is a bit more on the tame side. And the bonus is, that it's pretty darn easy to make!
I used New York Summer Amaranth (please ignore the sad state of the bottle…it had a bit of an accident when I was moving) and OPI Dazzle Me.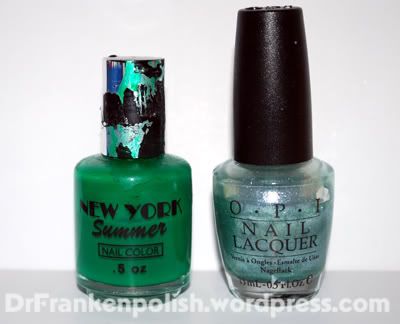 I added 1/2 each into an empty bottle, added a few ballz, and shook.


I used 3 very thin coats, and it still had a bit of sheerness to it. Usually VNL's (visible nail lines) bother the hell outta me, but I didn't mind it so much with this one.


The perky green is a lovely eye-catching color, while the shimmer really softens it up!
I've been working on some really cool new polishes, as well as some holiday ones. They will be up very soon, and as always, feel free to email me any requests. Thanks for stopping by!