Grapesicle
I have another pretty pastel for you today! These are so easy to make, and I wanted to add a couple other colors to my creme pastel family. I received an email from Julie, asking if I could make a light purple. Request granted!
I used Sinful Dream On, which is an insanely bright purple neon, and Wet 'N Wild French White Creme.
I added 3/4 white into an empty bottle, and used *almost* 1/4 of Dream On. Since Dream On is soooo bright, I really didn't need much. Of course, if you'd like your polish a bit darker…you can use more!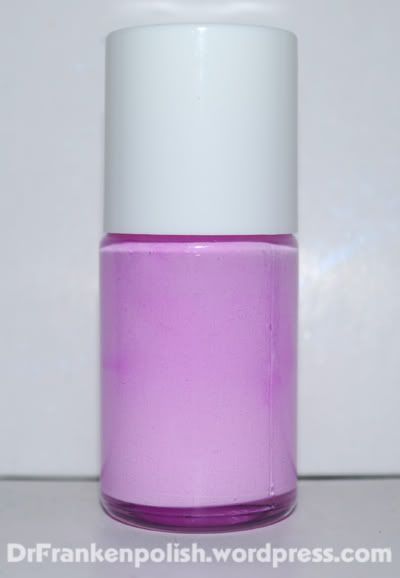 This one really turned out beautiful. I love how smooth and creamy it looks! It has a slight pinkish tone to it, but not quite as much as it appears in the photo. In real life, it is more purple.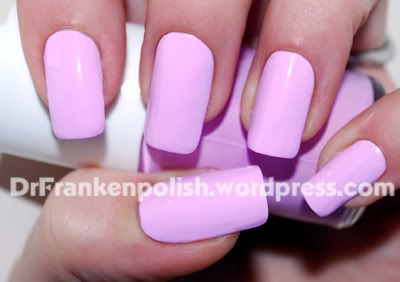 Thank you to all of you who sent me ideas and requests, and I assure you I am working on them all and should have more soon!

10 Responses to "Grapesicle"
Ohhh, that's pretty! Did you file your nails more square? I like that shape

aw yay thank you for doing this! it's so pretty!

Amanda! You're gonna have to send me your polishes soon, for a price.. You polishes look sooo good and all these pastells is just what I'm looking for!

Amanda you make the most fantastic colors!! I can't say enough good things about them. I love this pastel! So so pretty.

oooh i love these pastels!!!! can i have a few for my donut family? have you ever considered a "twilight" collection?!!??!?! hmmmmmm??????

Plz make Twilight collection NAO!

-kthxbai.

any other ideas for this neon? i bought it but i dont' know how to handle it. haha.

Mimi…you just gave me another idea…
Check back soon…I have another use for Dream On!!!

Where did you get the bottle to put it in ??